In this Article we will review the Pemberly row 2-in-1 convertible Crib! We go over pricing, the pros, the cons, and where to buy your own convertible crib!
Pemberly row is a brand dealing with casual and stylish furniture, bedroom collections, home comfortable goods, and official wood tables and decoration boards. All products are easy to assemble and differ with the existing market through attractive materials, textures, precise designs, eye-catching colors, and functionality features.
Pemberly row is demanded in the market of antique designing, the art of headboards, dining chairs, sofas, and dressers, etc. for all ages.
Sleep deprivation is a common factor through which all parents suffer during the starting growth years of their newborns. So they are well familiar with the importance of caretaking, especially at the night time. Pemberly row offering many cribs and dressers for kids to facilitate their parents so they can sleep well in the night time, and their child also enjoy the night time in the crib.
The crib is like a cage or bed for your babies that are designed by different brands according to the needs of the modern era.
It's a Great Crib!
They are initially designed to handle parenting issues by providing a baby sleeping bed, and dresser draws where all accessories and elements related to your kids can be placed. Finding a crib according to their requirement is tough for parents, and they search well to explore products according to price range, quality requirement, length, and design options.
Pemberly row startup in 2016, and now their offices are available in Cymax stores, USA. Their official website can also be used to contact them or to order the desired products. Pemberly Row 2-in-1 Convertible Crib is a combo of baby bed and dresser.
Extra two cubes under the bed portion increase the space to keep the dresses and all garments of the baby on a center point. If you have a limited area or require a cupboard or changer for your children, this product will be worth vital for you.
This 2 in 1 crib is available in many colors at cheap rates as compared with the other brands like Ouef. It is convenient for your family and grows with your children for years. The material used to design Pemberly Row 2-in-1 Convertible Crib is solid wood that is easy to set up and warranted at first purchase.
Price starts at $300, which is quite affordable. This beautiful piece of construction can be used as a bed for toddler, crib, dresser, and changer and as a day bed.
Unlike other brands, Pemberly does not charge an extra fee for a mattress; instead, it's the part of the complete package that helps the average income parent to get all with a small payment.
An entire order of this product will consist of 3 changers, two cubes as dressers, one mattress, smarter side rails that can be removed to convert the crib into a bed. So this is a multi-purpose product that covers small space and manages things on a more massive scale.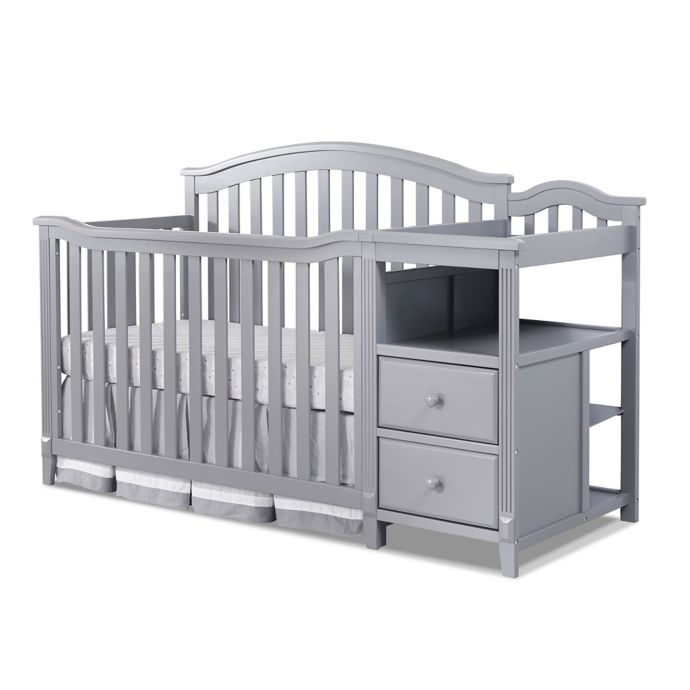 Want the best deal on this crib? Click here!
Pros of Pemberly Row 2-in-1 Convertible Crib
2 in 1 feature
Pemberly row is a combination of two things, crib, and dresser. Its unique and classic design makes this product an artistic piece in your parenting period. Mattress attached to the crib, and it is fixed and adjustable at different heights so you will be able to set its position to attain safety and stability for your children. The crib is manufacture with wood that is durable, water-resistant, lead-free, and non-toxic.
The second feature that increases its value is the easy conversion of the crib in full bed by removing side rails. That bed can be used for kids' ages from 3 to 10 years.
The associated changer is tested for safety first by Pemberly. You can use it to keep your baby's accessory products of your child, including garments, shoes, toys, etc. You can also check stork craft and separate dressers from the Pemberly store to complete your baby playroom.
Safe and Secure
Child safety comes first in all the goods they are using. It is the responsibility of the parent to judge and check all the products for safety and security. As concern with Pemberly convertible crib, material and rails constructed along crib are rigid and firm. The free space between rails makes it airy, freshen, and lively.
These strips like spaces help the child to stand via support of rail and reduce the risk of his fall down. In this way, children can play and move around within the crib with confidence.
The height and adjustable rails keep your kids safe and sound and reduce the chances of their escape from higher points. The sturdy material of rails is natural, pain-free, so no hazard risk is present even when you kid do licking while playing or standing. Products of Pemberly are certified and approved by JPMA and meet all their standard rules, so no need to worry about quality and safety.
Here is a videos that compares convertible cribs!
Want the best deal for the Pemberly Crib? Click here!
Bed Convertible
If you are looking forward to a product with an extended life period, Pemberly Row 2-in-1 Convertible Crib is usable for at least 10 to 15 years.  For newborn ages from 1 to 4 years can use it as a crib with rails. For toddlers, ages from 5-8 years can use it as a single bed for sleep or a full-day bed in their bedrooms.
For youngsters or teenagers ages 9-14 years can use this product as a day bed after removing rails and changer. So children of various ages can use this product with the same pros.
Bed convertible term when used in standard norms, means mattress with head and footboards without rails and changer. A regular bed of permeably crib's dimensions is 45 (in height) x 72 (in width) x 29(in depth). It weighs about 120 lbs. That means it's heavy and will be challenging to move by a person.
Another suggestion given be the Pemberly team is to avoid the use of a crib and convert it into bed if your child can reach the height of 35 inches to make sure about his safety.
I hope you enjoying this Pemberly Row 2-in-1 Convertible Crib Review!!!!
Warranted

 

and Comfortable
As an added benefit of Pemberly row is its comfortable design, area, soft sitting mattress, and vast space. Smart side rails and open lines between rails enhance its stylish design.
The space between the rails relishes the baby's mood because he can see and enjoy all the surrounding environment through them without crossing it. This pleasant and convenient setting of crib rates it as the best product to check.
The soft and fluffy mattress allows your babies to enjoy their sleep or play via jumping over the silky and flexible bed. No extra charges required by this brand for the mattress, and you can enjoy the product at much reasonable and affordable rates, even for a low-income parent. Besides, Pemberly also gives a warranty of one year for every product, including this crib, so if any issue found in the first year, you can claim about return or repair.
Ready to buy this amazing crib? Click here?
Lower Cost and Durable Material
Many other brands are selling the best quality wood crib but at $800 or 900 dollars. By purchasing from Pemberly row, you can buy the same product at cheap rates starting from $300 that is much economical and thrifty. Solid wood from walnut is used, which extends its life span and durability.
But their shipping reviews are somewhere negative because of delays and missing parts. So make sure to check the product thoroughly after receiving such a timely complaint can proceed for related compensation.
Extra Cubes and Easy Setup
In this busy and modern life, people want readymade and instant installs for all products. In the case of Pemberly Row 2-in-1 Convertible Crib, it came in bid packed product after shipping that is already setup. A vast area of crib allows more than one baby to stay in there, enjoy their childhood, and make memories.
But if you want to convert it into bed that you have to remove the rails and set the head and footboards that are associated with the product.
Extra cubes and changers, along with the crib and mattress, increase its storage to occupy all data related to your baby, either his shoes, toys, socks, pants, undergarments, diapers, wipes, etc. This feature eliminates the needs of the extra baby dresser and saves your money too.
Cons of Pemberly Row 2-in-1 Convertible Crib
Heavy and Hard to Move
Due to solid wood and 119 pounds weight, crib became more prominent in size. As a result, it becomes tough to move from one place to another. One more problem that customers face due to a larger size is, when the product shipped and damaged, it is very hard for them to shift such big things from their house to the store.
So portability issues are prevalent and existing for a long time. However, this issue is bearable because of its inspiring advantages.
Poor Customer Response
Customer dealing is a primary hot focus of today's market, and many companies are investing their significant share in it. Pemberly Row 2-in-1 Convertible Crib review shows that they respond to customers lately and on an irregular basis. This is a drawback that irritates the customers and buyers while repairing or returning products.
Pemberly row dealing with the complete furniture products, so they are expanding their resources and getting better day by day.
Where To Buy?
The best place to buy the Pemberly Row 2-in-1 Convertible Crib is Amazon. Why? Because they have the best prices and fastest delivery!
Conclusion
In this article, we focused on the Pemberly Row 2-in-1 Convertible Crib review and came to know that if you are a parent and looking for low cost, more optional, and versatile crib for your child, you must try it.
This product defines as all in one because it provides crib, bed, rails, changer, and dresser and gives more room to parents. So go ahead, visit the Pemberly website, order products from amazon or their store, and have fun with your kids.
I hope you've enjoyed this Pemberly Row 2-in-1 Convertible Crib Review!