This article is a comparison on the Keenz vs Veer baby wagons. We will go over the pros, cons, prices, and where to buy your pick!
The Veer cruiser and Keenz 7S are two brands of stroller wagons manufacturing for almost all ages especially for kids. These products facilitate the parents to drive their children along with them, conveniently. The life of parents, the period when their children are growing is the most tough and challenging time. So such brands help them to find trollies, clothes, strollers and different blanket sets and related accessories.
Quality wise both brands are authentic and valuable but due to low prices, keens is recommended by most of the customers. If someone ask about Keenz vs veer comparison, mostly people voted Veer Cruiser for quality and maneuverability & Keenz 7S for price and safety. But there are no hard and fast rules for judgments about products. Product that meets your requirement is actually best and good at the end of the day. Then you can decide if you want the keenz vs veer!
Although pro and cons exist for keenz and veer regarding manufacturing, material, safety, comfortability, leather quality and wheels strengths. All details are given below:
What the best price on the Veer? Click Here
What the best price on the Keenz? Click Here
Pros of Veer:
Customer Services
As compared with Keenz 7S, customer response of Veer is counted excellent. They contact to customers and fix their issues in a professional manner and within short period.
They give high priority to customer's complaints and try to solve them within a week or more. Satisfactory reviews of users and followers of Veer Cruiser have made unique and demanding brand in children's goods. Quick service of Veer cruiser gives them an edge in marketing industry too.
Durability and Quality
While considering quality for strolls, wagons and trolleys for kids, Veer cruiser wins the grounds. If durability of product is judge over Keens vs veer, more votes will be towards veers because of their strong handles, compact leather.
So if you want to purchase high quality accessory for kiddo, you must go for Cruiser rather than keenz. Although, pricing will be higher for good quality products so, made up your mind and shop at veer cruiser for good quality stuff.
User-Friendly Store
Vast availability of choices and designs increase the user-attraction rate of Veer's product. Their user-friendly store to order the relative goods, facilitate the individuals because it is easy to understand and arranged in orders and groups.
User can select that either to buy product, parts, garments, accessories, sets or colorize etc. If you ever search their goveer website, you will find the site same like Amazon.
Classification of products
As veer cruiser market is expanding day by day. Their way of classification and managing the products adds value to their end. All related designs and prices are grouped as one so user can explore it in either way.
These groups include blankets, cruisers, infant accessories, teenager's comforts and travel bags etc. Cruisers with & without shield are also available and categorized that helps the explorer to find best product in no minute. This feature is extra plus point for veer brand in comparison to the keenz.
Vast sitting area
Veers trolleys cover more area for sitting so that more than one kid can sit in and they can play while using them. This feature helps the parents of growing family because in this way, they do not have to carry more than one wagon for couple of kids. This facility enhances their comfort zone while going out. So it's kind of beneficial economically and socially too.
Footwalls and lock facility
Lock facility of Veer cruiser product is emerging and gaining popularity among parents. While parents plan trips or picnics in parks, they can lock the stroller to fix its position so it cannot move forward or backward. This helps to freeze the wagons and reduce the chances of accident.
Veer video review
Click Here to check the Veer's price
Cons of VEER:
Expensive Rates
As quality of veer's products is far better than other brands, price increases relatively. Many customers didn't buy veer cruisers or other goods just because of they cannot afford them. So they rely on cheaper brands and compromise on quality. On the contrary, people looking for best materials pay higher prices and enjoy their experience. So cost level cut off many customers.
No Flatbeds
Normally cruisers manufactured in Veer also curvy or for sittings. They are designed for kids to play and sit. So in this scenario, such wagons are found limited for nap.
Similarly, shield associated with such accessories are also limited to some specific cruisers. Extra features add new rates and payments that kind of hectic and sometimes, too expensive to deal. On the contrary, Keenz consist of soft and flatbed that facilitate the customers and keep them satisfied.
Lowest Safety Concerns
Although Veer brand took mature step while concerning about safety precautions and manufacturing goods while they focused mainly on quality and versatility. So many user claims that their product are harder and sometimes hurt kids while they are playing or not under observation.
So in suggestion box, many messages are uploaded regarding safety. Furthermore, Veer brand is taking important steps and evolving day by day that shows their hard work and devotion level towards their customers.
Footwall Presence of every Stroller and high weight
Mostly all strollers' wagons built by Veer are heavily because every wagon consists of a footwall and canopy. Including all the accessories, a commonly used strolled wagon weighs about 32-35lbs. Apart from that, their fixed roof also not detachable in most of the designs. So it's beneficial for bad weather but very irritating in normal routine.
In new designs, every part is detachable, lighter and easy to fold & carry. In short, many cons exist but they are trying hard to facilitate their consumers as far as they can.
Ready to get the best price on the Veer? Click Here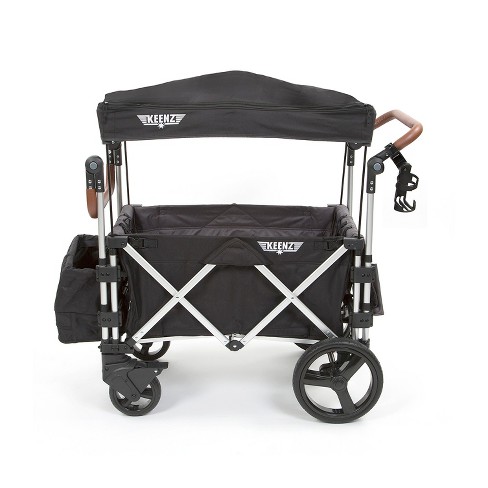 Pros of Keenz 7S:
Affordable Rates
Keenz products are popular among costumer due to lower rates. They offer good quality and latest technology features but at lower cost. This helps the average person who cannot afford high priced vehicles and they can enjoy the same features at small amount. Although, some features like leather quality stuff, or firm handles etc. will charge higher.
But overall, prices and offers of Keenz are reasonable and affordable as compared with Veer Cruiser.
Highly Safety Concerned Products
Veer products are compact but less safety concerns. Many customers reviewed about Veer's rigidity and solidity of materials that are less-comfortable for children's. But Keenz product is more concerned with safety if compared with Veer's. Like they have removable shields, soft flatbeds, no extra sets etc. This feature shows mature concern of Keenz 7S towards kids safety.
For example, they avoid to use plastic handles within sitting area or belts etc. so they children could have captured in them accidently and could get hurt.
Comfortable flatbeds
The soft and comfortable flatbed attached in the stroller wagons of Keenz 7S make them adorable for customers. Parents prefer Keenz wagons because of their easy going environment for their kids. Flatbed allows children to take nap whenever they want because of their long sized shape. They can easily lay down in it and enjoy a sleep without any hesitation. So this is also a positive end of Keenz 7S strollers.
No Footwalls
In some wagons, especially for toddlers, when we compare Veer and Keenz, they seems to be good. Because, footwall helps those kids who want to come out of their trollies while in other cases, it seems to be waste and irritation because it's just covering extra space and have no use. So keenz wagons normally do not have footwall which is good point for some scenarios and sometimes, they have but depend upon the kid's age and his behaviors.
Handy and easy to Maneuver
Because they mostly don't have the footwalls so they can easily moveable from one place to another. Maneuvering of wagon becomes easier especially during walk in park, in picnics or in any kind of trips. The wheels are free to move in any direction because of free area. While in the presence of footwalls, turning sides and moving the cruiser is a bit difficult when you compare the veer vs keenz.
Want Best Price on the Keenz? Click Here
Cons of Keenz 7S:
Slowest Response Rate
Keenz 7S customers usually complain about slow or late response from the company towards any emails or claim. If we talk about Keens vs Veer, Veer listen to their customers and then help them to tackle their problem. While Keenz didn't facilitate rather asked for return or ignore the emails.
Many people claims that they didn't respond to their product faults, bugs and malfunctioning rather they just ignore it. This factor is decreasing the market of Keenz 7S. But still they are trying to handle everything in a good way which is actually impressive.
Less-durable or Less Compact
As compared with Veer, keenz quality of product is very low. Customers claim that they break earlier starting from wheels. In short, they are less durable and strong to go for longer terms. Approximately, expected duration for Keenz product is 2 to 3 years max. Survey shows, they start decaying after this interval and left non-useful.
Where to Buy?
The best place to buy these strollers is Amazon. Why? Because they have the best prices and ship the fastest
What the best price on the Keenz? Click Here
What the best price on the Veer? Click Here
Conclusion of Veer vs  Keenz
In conclusion, each brand has its own pros and cons but both of the brands are working on their weak points. When comparing the veer to the keenz you can decide witch you like better. But if we talk about standard quality terms, veer brand is better but if you want to make compromise on payment then you can try Keenz that is offering same feature with lower cost. So it depends upon your needs and requirements to decide which brand is better for you.
I hope you've enjoyed this Keenz vs Veer comparison!