In this article we will be reviewing the Graco 4ever Extend2fit. We will be going over the pros, cons, price and where to buy your very own!
Among the most fantastic baby gears manufacturing products, Graco 4ever extended2fit is versatile and featured as four in one. If you are facing the problem of a car's seat adjustment for your child, this product will be going to help you for a long time. Graco 4ever extended2fit car seat can be used for all kind of ages.
It can be used for multi-purposes. Rear-facing feature support infants to position themselves. Front/Forward-facing feature of this car seat is convenient for toddlers.
Another extension panel consist of three and five positions facilitate extra legs that enhance the safety concern of your child. Recline constitute six positions can take the seat more comfortable and stable.
It's 4 in 1 feature make it possible to work as a backless booster, front-facing, rear-facing and high rear booster. If you bought a Graco for your infant, you could use it for at least ten years for the same kid. Hence it supports multi-level age's children to sit in the car without creating any trouble.
Sometimes, people feel inconvenient while adjusting the extra baby gear into their car. But in the case of Graco 4ever extended2fit, the buyer has to change only the headrest and harness system according to the age of your child. Also, the seat's recline can be re-adjust from front/back without reinstalling the whole setting.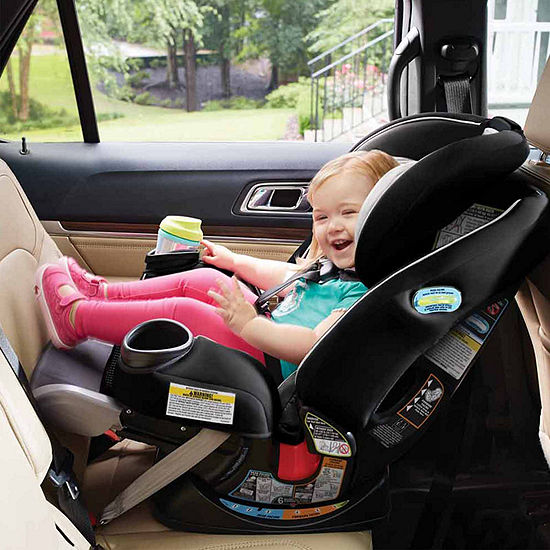 Want the best deal on the Graco 4ever Extend2fit? Click here!
Installation Method of Graco 4rever extended2fit
There are two methods from which you can install this car seat for your baby. The first one is via seat belt, and the second option is through InRight Latch System. Seat belt gives you an idea that which recline angles and installs are appropriate for your baby. However, if you didn't understand how to connect the seat, you can read the manual.
If you follow InRight Latch procedure, it will confirm the safe and secure installation of the seat for your kids. Pad's slit present around the belt surface.
You can tighten the Latch by pulling the strap while passing through the pad's slit. Text written on the side of the seat helps to add or remove the corresponding installation.
Pros 
4 in 1 feature
Graco car seats can carry the weight ranges from 4 to 120lbs, which means children of age ten years can comfortably sit and relax while using Graco 4ever extend2fit seats.
4 In 1 feature gives extra legroom that can be fit without detaching the harness system. Front and rear-facing add safety measures and keep your children safe and comfortable. Also, cup holders help the user to put different drinks and water while driving. So we can say it as "all in one".
Fit to Child
As many extra levels and additional settings facilitate parents to adjust their children in the car. The main feature of all the seats and accessories sell-by Graco is comfort level and easy to install. Area of the seat is extensive and there would be no problem if you child is chubby or healthy.
Soft edges of the seat help the kids to sit on the seat for a long time, especially while travelling. In short, if we are looking for a wide, relaxing and comfortable quality car seats, you must try it.
Ease of use and maintenance
Mostly car seats installation and settlement is a very tiring process for parents to handle. But Graco 4ever seats are easy to handle and install because of their visual guide placed on the seat.
You have to adjust through the LATCH or belt system depending on the age of your child. For example, if your child weighs from 0-40 lbs., rear-facing needs to be set at position 5. Similarly, facing will be adjusted according to age and weight.
Also, maintenance and cleaning of the seat are effortless because every part is detachable. You can wash plastic and metallic parts of the seat with water and soap to remove any stain. You can also fold the seat if you don't need it and can place anywhere with small coverage of the area.
Want the best deal on the Graco 4ever Extend2fit? Click here!
Long-Lasting Duration
Parents always look for products that are secure, safe and trustable to move on a long run. This car seat is not only reliable but also rigid and firm.
The material used by Graco 4ever Extended2fit is long-lasting and of good quality. So you can use them for your children for at least ten years. In reviews, people appreciate and like their accessories because they are available at manageable cost with the excellent medium.
Safety
Another encouraging fact about Graco car seat is their seat belts for both rear and front-facing. However, keep in mind that if your baby weighs less than 25 pounds, you have to use harness pads for a perfect fit. Graco performs many crash tests on the seat, rear part and the basis of car gears.
For upcoming car seats, Graco is also looking forward to a particular program to assess the new car controls and interior conditions where these seats can be easily adjustable.
Lower Prices
In countries like the USA, people do care about the cost of the product and make checks depending upon their budget plan. Graco 4ever extend2fit car seats are highly demanding in the market for their low cost. Minimal price of this seat is starting from USD 250 and ends at USD 500. Extra accessories charges more payments.
Customers can find the best quality while spending only a few dollars on Graco 4ever's website and stores. You can also phrase it as "big package in the small budget".
Want the best deal on the Graco 4ever Extend2fit? Click here!
Cons
Larger size
Although it's not a con, many customers find it annoying that larger size of Graco 4ever car seats sometimes make trouble while displacing. The reason behind their larger size is all features and accessories.
Versatile options available in Graco 4ever extend2fit sometimes includes extra spare parts that cover extra space. However, they are working on compact size and designs. Updates are evolving day and day, and positive reviews are observed about them.
Limited for cars
Another drawback of these car seats is the limitation of their use. They are not very boosting and compatible while travelling via air. Extra belt and safety harness system are required to stretch and hold the seat while sitting in the plane.
So travellers are going through this issue and looking forward to a solution where children car seats can also work in aeroplanes. Entrepreneurs of children gear industry are exploring and experimenting with making it possible.
Here's a video demo of the Graco 4ever!
Want the best deal on the Graco 4ever Extend2fit? Click here!
No multiple sitting options
If you have more than one infants or young baby, it would be a problem for you to use Graco 4ever seat because two children cannot be adjusted in one seat. And seat size is larger enough so you cannot adjust more than one or two seats in one car at a time. No multi-sitting arrangement is designed yet.
So parents face problems regarding the settlement of multiple toddlers in their travelling. Hopefully, there will be an additional feature for solving this problem. If Graco 4ever solves this issue, they will make the first ones… introducing a brand new idea to their customers.
Where to buy
The best place to buy the Graco Extend2fit is Amazon. Why? Because they have the best prices and deliver the fastest!
Want the best deal on the Graco 4ever Extend2fit? Click here!
Conclusion of Graco 4ever Extend2fit Review
Nobody hates or ignore Graco 4ever extended2fit car seats because this product is an excellent package for all either checked by price or quality.
Graco 4ever never compromise on quality assessment and safety concerns, especially of children's accessories. They controlled their prices so an average person can also afford them. So it's the right product that helps the couples to perform their parenting responsibility with satisfaction.
Store of Graco 4ever is not yet opened in Canada and linked countries, so people living in those countries also demand their 24/7 availability. However, the product can be ordered from Amazon and different associated store online, and it will be at your door within a week approximately.
I hope you've enjoyed this Graco 4ever Extend2fit Review!